Alumni
KGS Friends
Welcome to KGS Friends, the School's alumni organisation. We exist to promote links between all members of the School community, past and present. We help alumni to maintain or renew contact with each other and the School. We always love to hear your news!
We have a full list of wonderful Year Representatives who help us keep in touch with alumni. Find out who your representative is here:
Year Reps PDF
Merchandise
The Development and Alumni Office stock a range of of Kingston Grammar School related merchandise.
Please click here to view and order from our online shop
---
Events
KGS Friends hosts a number of events throughout the year for alumni, former parents and former staff to meet each other and come back to the School. If you would like to organise an alumni event or class reunion, the School can help you with these arrangements. Contact the office by email: friends@kgs.org.uk
Recent Events:
Class of 2017 - One Term On Reunions
Some 110 of last year's leavers and their teachers and 49 of their parents attended the two One Term On Reunions held on 20th December. The former pupils had the upstairs room in the Gazebo, while the parents' rather more civilised affair was next door in the Bishop.

It was great to see so many people at these events – record numbers, we think – celebrating a whole term away from KGS and ushering in the festive season with real spirit and no little abandon. Everyone enjoyed a couple of drinks and some food courtesy of KGS Friends, before the parents toddled safely home to bed (one assumes!) and the students, as if in answer to some secret signal, suddenly vanished into the night – the word 'prism' on several lips, somewhat mystifyingly.
It was a super evening, and we would like to thank everyone who came. Here's to the next time and perhaps breaking that record! Happy New year!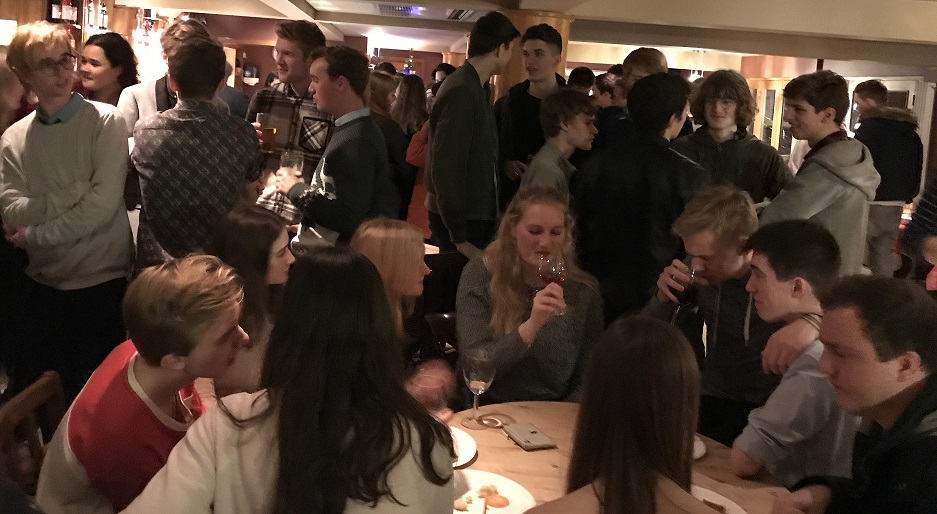 Upcoming Events:
Class of 1988 - 30 Year Reunion
Newsletter
KGS Friends produces a newsletter four times a year to update you on upcoming events, alumni news and recent developments at the School. To receive our newsletter please email friends@kgs.org.uk with your preference for a printed copy by post or a digital copy by email. Click the links below to view the latest editions:
---
Online Archive
Click here to visit the Kingston Grammar School digital archive.
We are always grateful for donations to our archive. If you have anything of interest please contact our archivist, Joanne Halford.
archives@kgs.org.uk 020 8939 0111
---
Contact Us
KGS Friends
020 8939 8328
friends@kgs.org.uk